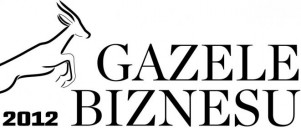 The 'Business Pulse' Magazine grants the 'Business Gazelle' award to a medium-sized company which, thanks to its dynamic growth, is faring well even among much larger competitors. If threatened by its competitors, the gazelle simply leaps forward.
The Business Gazelle 2012 is, therefore, a company that:
- was established before 2009 and has continued to operate ever since
-its revenues from sales ranged between PLN 3 million and PLN 200 million in the base year 2009
- experienced a significant growth in revenues from sales in the years 2009-2011
-did not experienced any lossin the years 2009-2011
- has disclosed, at least since 2009, financial and business performance information about the company and transferred it to the company 'Coface Poland' and the editorial team of the 'Puls Biznesu' ('Business Pulse') Magazine.
The 'Business Gazelle' has one more feature that sets it apart from other business species, such as sharks, bulls, bears, and even more from hyenas. The 'Business Gazelle' has impeccable reputation and acts with commercial integrity towards its employees, business partners, society and ... the State Treasury.