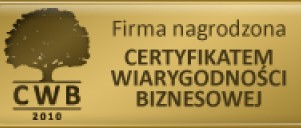 Receiving a Certificate is a prestigious award which can be obtained only by the companies which fulfil strict criteria. The Certificate of Business Credibility guarantees that its holder is a reliable partner and it is worth to do business with him. Certificates awarded by Dun & Bradstreet Poland are recognized all over the world and help to increase company's market attractiveness.
The companies awarded with Certificate of Business Credibility are those creditworthy companies with the highest stability rating companies whose financial data guarantee high profitability and financial liquidity, with a negligible level of debt and recorded overdue payments.
Dun & Bradstreet Poland is an expert in creating trade reports on companies from the whole world. Evaluation of company's reliability and stability is prepared by D&B analysts upon:
- payment morality analysis according to DunTrade® programme
- analysis of financial indicators given in latest available financial reports
- largest relation database of corporate and personal connections in Poland.